Real People. Real Results.
Stimulates skin productivity and supports the natural process of cell reproduction without chemicals or recovery time.
Safe, gentle, painless and cost-effective anti-aging beauty treatments in the comfort of your home.
Delivered to your home FREE - and great for travel! Delivered with multiple outlet connections for multiple countries!
Reverse the visible signs of aging in 8 weeks and improved results for many other types of skin conditions.
Don't like your results? Get a 100% refund within 60 days from the purchase date. No questions asked.
What is Low Level Light Therapy?
Low Level Light Therapy (LLLT for short) is a process of using various wavelengths (colors) of light to trigger positive reactions in human cells, making them more efficient and productive.
The iderma is designed for both men and women of all skintones. If you care about your skin and want to slow or reverse the visible signs of aging, the iderma is for you!
When can I expect to see results?
Because the iderma is fitting with the highest quality red and infrared LEDs, treatments are shorter and results are realized much quicker than other devices. In as little as 8 weeks you can see a noticeable difference.
Individual treatments are only 8 minutes and only 3 times per week. Within 60 days results should be noticeable.
Low Level Light Therapy (LLLT) is quite safe, with no known side effects and seems to have roughly the same overall "risk" as a table lamp.
Of course, you should always consult with your doctor before starting any treatments if you are pregnant, taking photo-sensitizing medications, have significant skin conditions or are under any kind of medical care.
The iderma comes with a 1-year Manufacturer's Warranty. We pride ourselves on our customer support, so if you have any questions about how your iderma is working please call Apira Science at +1 (866) 982-7472 or email support@idermaskincare.com.
Shipping is FREE domestically to all 50 states.
We have a 60-day return policy, which means you have 60 days after receiving your item to request a return.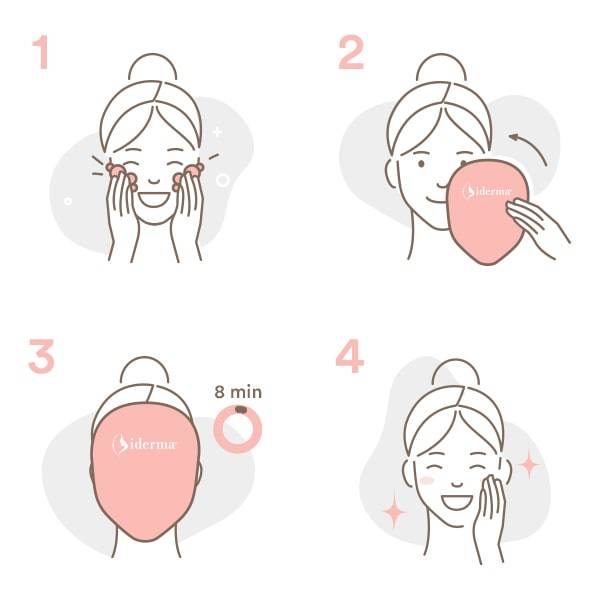 Step 1: Simple Preparation
Just wash your face and dry with a towel to clear of any oil or dirt.
Step 2: Power Up and Play
Adjust the headpiece and press play! Your 8-minute treatments are pre-programmed to shut off automatically.
Step 3: Relax & Enjoy Your Treatment
Sit upright or lay back to enjoy your treatment! The iderma sits off your face, designed for comfort and fits all head sizes.
Use the iderma Skincare Anti-Aging Serum or your favorite skincare products to enhance your routine.
The high-quality treatments of athletes and celebrities
Real people. Real reviews.